Snatched Chin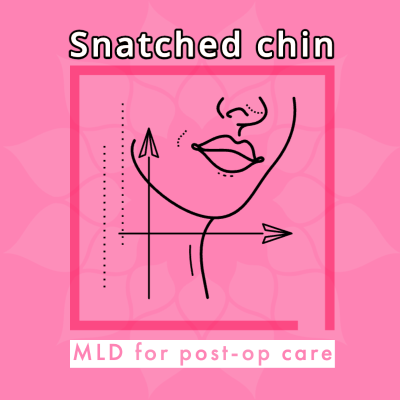 MLD (Manual Lymphatic Drainage) is a technique used to help with post-operative care after chin surgery.
The snatched chin is the look everyone is going for. While there are many techniques that promise to help sculpt your jawline, liposuction is a very popular option. "Submental liposuction" involves the removal of fat deposits below the chin.
Table of Contents
The snatched chin in the media
TikTok
"The TikTok hashtag #chinlipo has nearly 60 million views … with other young content creators ditching their double chins for good."
Although the TikTok filters are amazing, and many of the content creators are young, the double chin is prominent, and thus problematic, for some.
The Press
Even the venerable British newspaper "The Guardian" wrote a piece about the trend. Here is the link (opens in a new tab)
'Snatched jawline': how the chin became fashion's new pressure point
Facebook
It can be hard to see our faces staring back at us, over and over. Some people choose facial procedures to look better on camera. Pamela Madsen, a body-positive woman if there ever was one, wrote in a Facebook post from 2021:
"…but my chin and neck. It didn't match my insides. And I was confronted with it all the time, as I spend so much time in front of the camera. For about three years I wanted a surgical intervention. And if you have been following along — I am now about 10 days post-op. I don't feel bad about my neck anymore. In fact, I am having the most glorious reunion with my profile. I can even say that I love my neck."

Pamela Madsen, Facebook post, August 14, 2021.
Appearance matters, even to those of us who know that what really matters is what's inside.
The Importance of Aftercare
To get that lifted look, injectable fillers are another option. Which procedure you choose will require different post-operative care. I am not qualified to advise on which procedure is best. What I do know is that post-operative care for chin liposuction is important. MLD is the gold-standard treatment for swelling of all types. Alongside the use of HIVAMAT 200® Deep Oscillation Therapy, scars, inflammation and swelling can be significantly reduced, leading to faster healing and less discomfort.
Contact me for advice
Please use the WhatsApp button on the bottom right to send me a message. I am happy to help.