Strong massage: how much ouch is too much? One of the greatest misconceptions about massage therapy is: it has to hurt to be effective.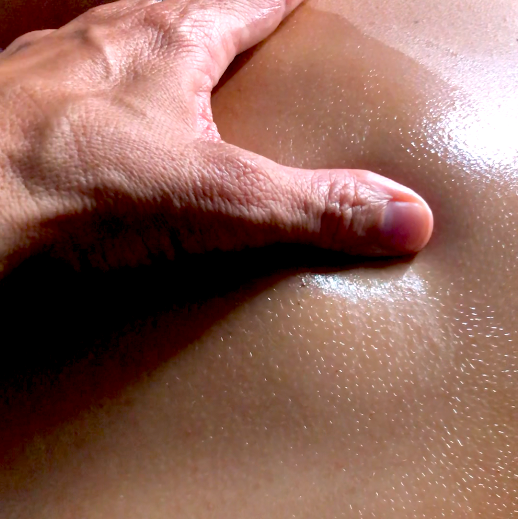 No pain, no gain? 😥 A great misconception…
Now, a lot of people think "no pain, no gain". That's something that is really deeply implanted in our culture. But, actually, I don't really think that's effective in the context of massage, even strong massage. That is why it is one of the greatest misconceptions about my art!
The true art of massage
So many times people will say "I like a really strong massage", but actually what they are saying is "I find it really hard to relax". This is where the Art of Massage comes in. A truly skilled and experienced therapist will find the line between pleasure and pain and stay there!
When something starts to hurt, you tense up. This a perfectly natural reaction when someone sticks an elbow into the middle of your back! This is counter-productive because the whole point of massage is to help you to relax your muscles.
When we talk about relaxation, it's not only about chilling out in your mind. We are talking about physically de-contracting your muscles, which means that you are getting the real benefit of massage.
Skeletal muscle is controlled by your motor neurons. Unless you have a pathology (Parkinsons' Disease, or ALS, for example) or a severe nutritional deficiency (Magnesium, Potassium, etc), the degree to which your muscles are contracted is largely determined by the messages that they are receiving from your central nervous system.
Most modern adults are subject to chronic stress. We tend to overuse caffeine to counteract the lack of rest. Caffeine causes the adrenal glands to secrete adrenaline. Adrenaline causes the heart rate to accelerate and the muscle fibers to contract. When a muscle is chronically tense (think of your poor shoulder muscles…), some of the fibers may lack adequate blood supply causing them to dry out and even atrophy! This means that the muscle is largely unable to de-contract.
The ability to tell your muscles to relax is classic Mind-Body work. In today's world, it's almost like a superpower! A skilled massage therapist, using the correct pressure and in the right space, facilitates the relaxation of these poor, tense muscles without causing pain. No pain, no gain? Not always.
On a scale of 1-10, spiritual healing would be a 1. Manual Lymphatic Drainage massage would be a 2, maybe 3 at most. Aromatherapy massage is usually gentle, maybe 4 or 5. Swedish massage sits between 5-7. Deep tissue and fascial massage, both of which are strong massage techniques, would be at the top end of the scale. Hot stone massage can be used to intensify the treatment, especially if the stones are used to massage. However, placement stones bring the intensity of the treatment down as they prepare the tissues for manipulation.
Swedish Massage
Swedish massage has four main movements: stroking, rubbing, kneading, and tapping. Any of these can be used with varying degrees of intensity to get the desired result.
What type of massage should I get?
Massage therapy should always be personalized. No two people are the same, so no two treatments will be the same. Even the same person can have different needs depending on the day or what they've been doing. In general, if you are a sporty type, I would recommend the fascial and deep tissue massage, maybe even a hot stone massage. If you have a more delicate constitution or have been through a tough time recently, I would recommend a gentle, holistic treatment with aromatherapy and some head, neck, and face massage. There is always enough time to have a chat beforehand so that we can agree on your needs.
Where can I find a strong massage near me?
You've come to the right place if you're in the Altea, Albir, or Benidorm area of Alicante province. My massage therapy studio is conveniently located in the center of beautiful Altea. Altea has lovely shops and restaurants, a gorgeous seafront and good public transport links. There is paid on-street parking, an underground parking garage only a 2-minute walk away and loads of free parking within a five-minute flat walk.
So, get in touch, come along and give it a go! You can use the Whatsapp button in the bottom right corner, of just text me at +34667997532. I offer professional therapeutic massage, hot stone massage, deep tissue massage, and manual lymphatic drainage from my beautiful therapy room in Altea. Whether you are here year-round, or just on a visit, I am sure that you need and deserve to relax, unwind and manage your stress levels. That is what I am here for!